Largemouth Bass Fishing
The Ultimate Guide To Catching More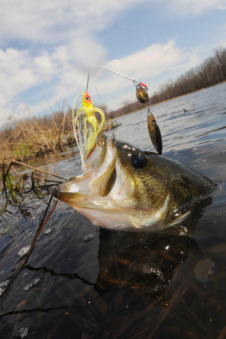 Welcome to the largemouth bass fishing page. The most comprehensive source for all the things you need and want to know about Largemouth Bass. And fittingly enough it resides on the source for all things bass fishing.

Largemouth bass, also known as black bass, are hands down the most sought after sport fish in freshwater fishing. There is not much that matches the thrill of hooking up a lunker bass that all of a sudden crashes your lure.
On this section of the site we want you to know that feeling every time you go out on the water in search of your next limit weather its for competition or just pure joy of catching bass. Whether you're a newbie or a veteran angler. There is something for everyone here at the Source.

Identifying Largemouth Bass
Many people will know from its name what to look for in identifying this fish. Even its aliases, from bucket mouth to big mouth, will clue a novice in on what's this fish's most prominent feature but what else do you really need to know to be able to positively identify a largemouth bass? Get the knowledge on other characteristics to spot. See what makes this bass standout from other game fish.

Finding Bass
Knowing where the largemouth bass likes to hang out is a must so you can get the most out of your bass fishing day. Understanding the largermouth bass habitat is key in knowing what areas to target when you get out on the water. Even with a fish finder you can waste valuable time if you don't understand where to look to get you on some fish.
To make things more challenging bass will change locations as the seasons change. You'll be wasting time if you are fishing the same areas in winter that you found productive in summer.
*Learn where to find Largemouth Bass the whole year.*
Bass Fishing Tackle and Gear
It seems like the list of tackle and gear for largemouth bass fishing is endless. The first step to making sense of it all to understand the basics. You can then have a foundation to start with as you navigate through all the awesome gear and decide on that perfect rod, reel, tackle box or other must have piece of equipment to make your fishing day much easier and productive.
Get started with the Bass Fishing Tackle Guide.
Learn to decode those fishing rod descriptions, like "Medium Heavy, Fast Action" and how to select the fishing rod right for you.
We breakdown 3 types of bass fishing reels so you can decide which is best for you.
Learn the difference between monofilament, fluorocarbon and braid fishing lines.
Oh and let's not forget those fancy, fast bass fishing boats. Check out what they're all about and some less expensive alternatives.
Largemouth Bass Fishing Lures
There are so many different lures on the market geared toward catching largemouth it can be confusing, well at least for some of us. I know I have a heck of a time trying to decide what I should spend my hard earned money on to make sure I catch what it says I will. Hopefully we can help you make a more informed decision to make it a productive day.

It's important to make sure you know what the best largemouth bass fishing lures are to land your next lunker. These can vary from versatile soft plastics to commotion causing spinning baits. Your choice is critical so make sure you know when and how to use each one.
Check the Top 5 Fall Bass Lures from Rapala.
Ready to get going now? See the Top 5 Bass Lures on Amazon.com
Bass Rigs and Presentations
Once you've decided on what lures to use, you need to know how to rig them up. In most cases there's more to using a lure than just tying it on. Especially in the case of soft plastics. 
Here are 3 must know bass fishing rigs.
And what you need to setup these rigs.
Breaking down the Carolina Rig.
Largemouth Bass Fishing Tips And Techniques
Ok once you know where to find them, the gear to use, the lures you need now it's just a matter of tossing your line into the water...right? Ah if only it were that easy. But there are so many ways to fish for largemouth and in this is the fun of it all. The challenge to get that first catch, or that five fish limit or that elusive double digit. Knowledge is power and we're here to give you just that.
Know the 6 seasons of bass fishing.
Spring time bass fishing can get you some seriously HUGE bass. Check out where to look and what to use for spring largemouth bass.
Check out our fall bass fishing tips for some information you should know as the temperatures start to cool down.
And when the chill is in the air, it doesn't mean you have to stop. Check out these winter bass fishing tips. And learn 6 winter bass lures for red hot action.
See what lures you should be using for summer bass fishing.
What is "Pattern Fishing"? Check out Mike Iaconelli's Pattern Fishing Tips.
Check out the Perfect Night Time Bass Lure.
Check out the most recent World Record Largemouth Bass caught in Japan!
See video of some crazy underwater bass strikes.
Everything you need to know about bass fishing with plastic worms.
What is prespawn bass fishing?
What's the best bait for bass fishing?
What's Next?
Download the Bass Lures Cheat Sheet. This one page sheet will guide you in what lures to use for a given season and some tips on areas to target.
Get social with us. Stop by your favorite social network and say Hi.