The Essential Bass Fishing Tackle Guide
The gear you need to get the bass.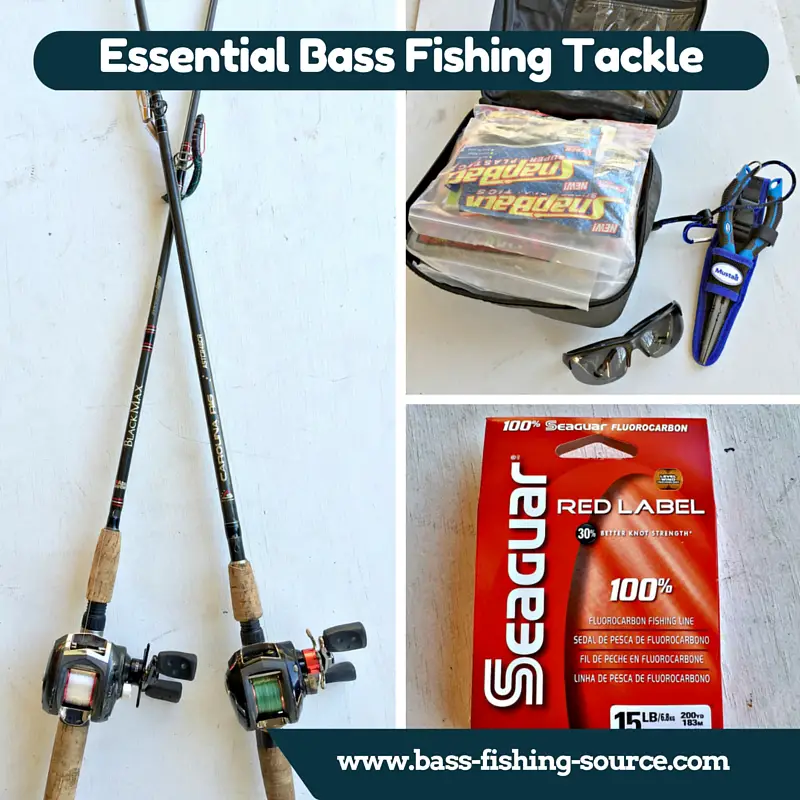 When you think of bass fishing tackle what are some of the things that typically come to mind?
For me right off the bat I am thinking, of course, a tackle box full of a variety of lures, a fishing rod and reel and fishing line. But there is so much other gear out there that can make your bass fishing trip much more enjoyable. In some cases your gear can make the difference between landing that trophy bass or just coming back with a story about the one that got away.
We got a list for you to make sure your bass fishing tackle needs are covered, but more on that later. Let's start at the beginning.
The Rod And Reel
So, to mention the obvious, the first thing you'll want to grab for a day of bass fishing is that rod and reel. Now if you are into fishing, you know this is easier said than done. Spincaster, Baitcaster and Spinning; Medium to Heavy action; fast or slow speed, there are so many options to decide on but what do they all mean? Take a look at what the different bass fishing reels have to offer and how to choose a bass fishing rod to go with them and suit your type of fishing.
Check out the Humminbird Helix 7 Chirp G2 Review
The Tackle Box
Having an assortment of bass lures available is a must for giving you the best chance of having a great day on the water. Now if you have a well stocked tackle box and you have the opportunity to take it with you on a boat then no harm in carrying it all with you. But if you plan on moving around doing some shore fishing and need the ability to be mobile, carrying around a 10 pound tackle box isn't going to be the best idea. If you can get it down to just a few lures to load up, your travels will be that much easier.
Some of the "must haves" include:
Crankbaits - Choose a couple of natural color for the clear water and a couple bright, flashy flavors in case you run into some dark murky conditions.
Jigs
A couple of frogs
Couple these with your standard bass fishing tackle box items of hooks, weights and swivels and you should have all you need to take on whatever you looking to land.
Check out some of the best rod and reel combos at https://www.globosurfer.com/best-fishing-rod-and-reel
20 Bass Fishing Tackle Items Often Forgotten
Some of the most overlooked bass fishing gear you'll want to consider taking with you is listed below.
Polarized Sunglasses and Sunblock
Landing Net or Lip Grippers
Needle nose Pliers
Knife or, even better, a good multi-tool
Fish handling gloves
Small towel or rag
Lure Retriever
Hook Remover specifically for those fish that seem to inhale that hook and you can't reach with your pliers
First Aid Kit
Flash Light
Clippers
Camera
Extra fishing line
Pre-made leaders
Fish Scale
Ruler or other measuring device
For the bank fishers some of these could prove useful also.
Bait Bucket for live bait
Cast net if you plan on catching your own bait
Rod holders
Stringer
Go from bass fishing tackle to the Bass-Fishing-Source home page.