White Bass Fishing on Benbrook Lake
by R. Rodriguez
(Fort Worth, TX)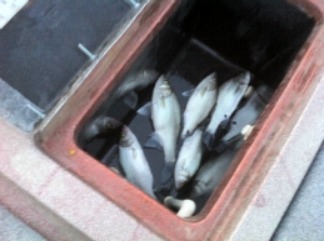 White Bass in the live well
Got out to do some spring white bass fishing. Well actually we were looking for anything we could get into.
We did more scouting of the lake than fishing. We were headed back to the ramp when we decided to head to a cove we hadn't checked out yet.
We saw the white bass active near the mouth of creek at about 6:30 PM. We pulled one in using a minnow. Another with a lipless firetiger crank and the other 3 using roadrunner jigs with white grubs on the hooks.
Unfortunately my boats lights do not work so we had to leave soon after they were biting. I know there were more there to be taken but that's the way it goes sometimes.
Details of the conditions:
Temp: 83 degrees
Water Temp: 71 degrees
Water Clarity: Clear
Water Depth: 4 to 4.5 foot
Time: 6:30 - 7:30 PM
Location: Grass line near the mouth of a creek