Tournament Bass Fishing - The Sporting World's Rising Star
By: Curt Snow - RI, USA
The popularity of tournament bass fishing has been on a rising trend for the past 15 years or more. 25 years ago, it was virtually unheard of for a bass tournament of any size, whether big or small, to be mentioned in a local newspaper or on national TV.
Skip To:

Nowadays, it's not uncommon to see bass fishing featured on ESPN or getting coverage on TV news stations. Even some newspapers are starting to be aware of bass fishing tournaments and giving them some space in print.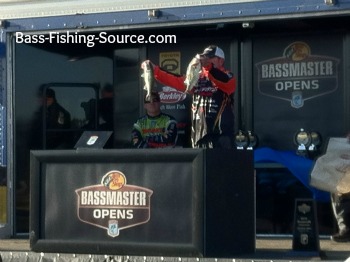 History
Much of this rise in popularity can be traced back to one man... Ray Scott. Ray was an insurance salesman from Alabama with a vision for something bigger. Through his dream, bass tournaments have reached all-time highs in popularity and in terms of participation and prize money payouts.

Ray Scott founded B.A.S.S. (Bass Anglers Sportsman's Society) back in the 1960s with a single member and grew the organization into a powerhouse of millions of members and enormous stature and influence today.

During the warmer months across the USA it's now very common to see anglers towing their fully-equipped bass rigs behind their trucks, headed to or from a local lake where there is or has been a bass fishing tournament.
Types of Tournaments

Bass tournaments run in scope from a local fishing club with a handful or members, to professional tournaments with hundreds of boats and anglers armed to the teeth with tens of thousands of dollars in gear and accessories.

As the popularity of tournament fishing has increased, so have the entry fees and prize purses for the national level professional tournaments. Small tournaments held on a local level might require an entry fee of $20 per angler and pay out a couple hundred dollars or less for a 1st place finish, whereas a big-time professional tournament will have an entry fee of $5500 and payout $100,000 for a 1st place finish!
Tournament Equipment

As with anything that become more popular, the equipment used to catch bass and conduct the tournaments has become more and more sophisticated.

Bass boats used to be built from a small, 14 - 16 foot flat bottom boat with an outboard hanging off the transom. Not much different, really, than any other small fishing boat.

Nowadays, bass boats are a breed of their own, loaded with equipment and features designed specifically for helping the angler find and catch fish in safety and comfort, and with help from things like electronics for navigation and finding fish.

Rods and reels have taken quantum leaps forward with regard to engineering and design, but especially regarding the materials they're made from. Fiberglass rods have pretty much been replaced by space-age materials such as boron, graphite and others that are extremely light and very sensitive.

Reels are designed to be ergonomically comfortable to use for long days on the water, with special attention being paid to the way a baitcasting reel fits in your hand as you "palm" it on the rod. Reel materials have also advanced, using graphite and aluminum to keep them light and brass gears to make them last longer.

Now, once all of this gear is put to use to find and catch bass, the bass boat is equipped with special "livewells" designed to hold the fish and keep them alive and healthy! The days of anglers bringing their tournament creel to the scale on a stringer are long gone.

These livewells are equipped with aerators and recirculating pumps to keep the water oxygenated, giving the bass a healthy environment while they're being held for weigh-in at the end of the tournament. The live release rate of these tournaments is extremely high, with more than 90% of the fish being released to swim away.
At The Weigh In

And at the end of the tournament, after all of the high-tech gear has been used to get the angler to their favorite spot, find and catch the fish and then keep them alive, more modern technology is put to use to weigh the catches of the tournament participants.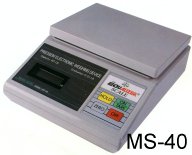 Modern bass fishing tournament scales are a marvel of modern technology all by themselves. Today's tournament scales are digital, waterproof and extremely accurate, weighing fish in increments down to 1/100th of a pound!

Most scales in use for today's tournaments run on battery or AC power, being adaptable to whatever conditions are at hand for each different tournament. Many of them also employ large digital displays that can be seen by spectators at the weigh-in, making it easier for spectators to track the standing of their favorite angler.

As a fishing tournament director and someone who has run small and large bass tournaments for over two decades, I've used the scales of one particular company for over 20 years, without a single problem. www.EqualizerScales.com has been in the fishing tournament scale business longer than any other scale company and has earned a reputation for quality products and excellent service.

If you're a tournament director or you're in the market for a great tournament weigh-in scale, check out their website. You won't be disappointed!

Good fishing!
Go back from Tournament Bass Fishing to Bass-Fishing-Source.com