The Pit Boss
by ben freeman
(webb city, mo)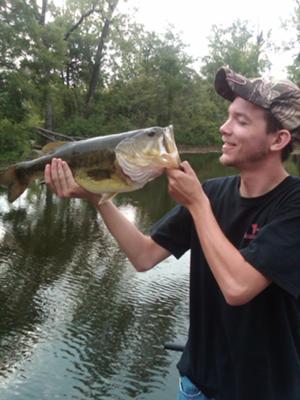 My buddy Wrangler and I decided to hit some pits near Columbus, KS in the Mined Land wildlife area. I had been there before but it was his first trip. I remembered fishing there once before in a remote pit and how i had lost a little bass to much larger one. We had just put the boat in when i cast out a small Bandit crankbait and hooked into a 10-12" largemouth. My buddy i was with at the time was still distracted with setting his gear up in the boat and didn't notice me retrieving the fish. I paused to help him get set up and once we were ready i continued pulling in my fish. As it got about 15 feet from the scamp, we both looked down to see it in the deep, crystal clear water just in time to see what must have been a 12lb+ largemouth swallow my fish whole, turn his head to dive, and snap my 8lb line.

This is the incident that prompted me to return to this pit, two summers later. Wrangler and I put our boat (10' Scamp) on the pit at around 6:15am, on 7-2-10. The weather was overcast, 75* with 40% chance of storms if i recall. i decided to throw a One-Knock Spook, as i always start with a topwater bait since i LOVE the action it can provoke. In fact, it produced a solid 4.5lb fish on the 2nd cast from the bank before loading the boat.

After fishing for a couple hours, we ventured to the back side of the pit, which involved moving through a 50yd section of water, 4-6' deep and no more than 15' wide at the widest section. We startled several fish in that section that made wakes that rocked the boat when they decided to flee. At the end of this narrow section of water, it opened back up into a 18' deep, round pool roughly 50' across. Deep, clear water with thick vegetation all around, but a clear, structureless bottom. Wrangler decided to tie on a deep running crankbait, hoping to pull fish off the bottom. i chose to cast my Spook across the water, almost reaching the far bank. It must have been a bullseye because i JUST got the slack out of my line and made a quick jerk when a massive mouth appeared around my bait. It snapped shut and the fish dove deep and fast, taking line like a freight train. i was using my brand new Carrot Stix 6'10" rod and Shimano Curado baitcaster, wound with 14lb Sufix Siege camo line. The fish made surprisingly little fuss after the initial run and i pulled it up and in to the boat. Of course, as with all fish and their stories, the picture does it no justice. We saw that immediately and tried taking different shots, but the fish just never looked as good on the phone's camera as it did in my hands. It had the entire spook in it's mouth and i was able to put my fist plus 3-5" of my arm into its mouth while holding it by the lip. We had no means of measuring or weighing it, but it was well over 6lbs for certain, closer to 7 i would imagine.