My biggest bass yet.
by A.J.
(Des Moines Iowa)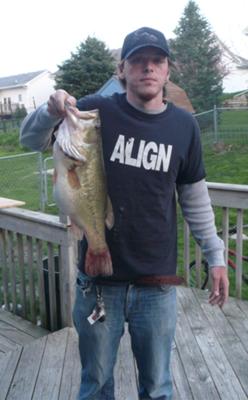 So far this year has been very good to my fiance and I for fishing. We live in the Des Moines Iowa area and go fishing as often as possible. I originally hail from southwest Iowa and knew most of the land owners in the area and had ample opportunity to fish some of the best farm ponds around. Now living in the Des Moines area, there are not many opportunities to fish the small ponds and I do not own a boat, so I am limited to where I can fish.
This year at Badger Creek in Van Meter Iowa has been very good to me. I have caught several 3 pounders in the 18-20 inch area. I know many people anymore practice catch and release however I keep what I catch as long as it is within the legal size limit and I never take away more than 3-5 fish away with me.
One week ago my fiance and i were fishing out at Badger Creek and were having no luck at all. She decided to switch over to nightcrawlers on the bottom and try and catch a channel cat or two. I continued to fish for bass and was still having no luck at all.
At around 7 pm we decided that we were going to leave. Right before we left, I hooked into something that felt pretty big however it got off my lure. After that the frustration levels were high so we decided to call it a day. The next day I had some errands to run out at Bass Pro Shops and at Scheels (had to exchange out a couple rod's that had been broken. After doing this I also repaired my favorite baitcaster (a quantum code red) that I had gotten at Scheels on clearance. After repairing it, I only had 6lb Trilene lo vis green line to put on it. After the reel was re-lined and on a brand new rod, I decided to go out fishing. By this time it was 3 in the afternoon. I hit the same spot out at Badger Creek that we had been at the night before. I pulled in two 18" 3 lb bass within the first hour there. I continued to fish and had no more luck. I hadn't forgot about what happened the night before so I continued to cast into the same general area. At 6:30 pm I again hooked into something big. I began to panic because I was using my recently repaired baitcaster that only had 6 lb line on it. Quickly decided to lighten up on my drag and let the fish fight in an attempt to tire it out.
Most anglers will say that the best part about fishing is when the fish breaks the water during a fight. I disagree with this. I especially enjoy it when the fish never leaves the water until I am pulling it out. I feel its more exciting that way because you never know what you have until that point. I pulled the fish up to the waters edge and began to lift it out. That's when my line snapped. The fish fell back to the water where it was about 3 inches deep. Purely on instinct I jump down to the water and seized the fish. I had caught it and it took me about 30 seconds to realize what exactly I had because frankly, I myself didn't believe it at first. I had just caught a 23 inch 6 1/2 pound bass. The largest I have ever caught. I couldn't stop shaking and was furious for the fact that I had absolutely no cell phone reception so I couldn't call my fiance and tell her what I had caught. I left that day with a bigger smile than I ever have while leaving that lake. I need kept the fish and it will be contributing to my families yearly fish fry and I have every intention of getting a replica made of it for mounting purposes. This was one of the biggest rushes I have ever had while fishing.