First Bass Ever
by Jeannie
(Corbitt)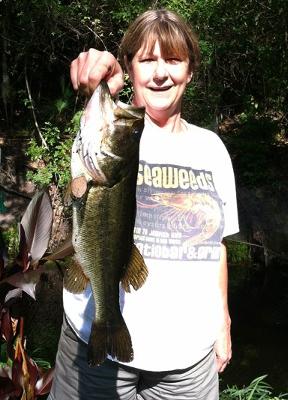 My first bass
I have never fished freshwater or used artificials for that matter. I usually fish saltwater with live bait in a boat.

I have to tell you, after catching this with my husband's lightweight rod on a plastic worm I am addicted to bass! Not to mention this little creek is only 60" from our back door. He was released to catch another day and to grow.

Now when he comes home from work and I don't answer his "hello" he knows where to find me.
You guessed it. I'm tossing plastic worms in the ole creek.

Happy fishing to all.