4.5+ Smallmouth Bass & Buddys 5.0 Largy
by Christopher Barr
(Hamilton ON. Canada)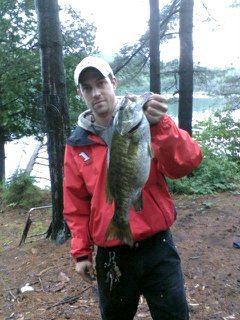 Well the smallmouth bass was caught on a small lake in Calabogie Ontario Canada. 45 min from Ottawa.

I was using a top water, popper lure, medium sized with red hooks.

It was a misty rainy morning, about 20 degrees and it was 10am.

I decided to fish off this point on this lake because it was a very shallow shore. I realized when i got to the spot it was just as shallow there, buttt realized a huge rock at the point that had one drop off. So I casted about 10 casts over the area, and bammm.

Biggest hit, heaviest pull in i've ever had. When I lifted it up I realized it was actually hard to lift, which made me think it was over 4lbs. Anyway I took it back to camp fast, weighed it but my stupid scale wouldn't turn on:( So... I took a couple pictures of her and threw her back in the water. I think it was over 4.5lbs but I can't prove it so i'll stick with 4.5:(

Still a great catch! My favorite...

Second fish, the 5.0 Largy was caught on the bass opener, around Calabogie, but another lake my buddy in the pic decided to finally tell me about after keeping it secret for 8 years:S. But can you blame him! We caught 22 in total that morning, averaging (get this, 2.5lbs) it was awesome. Lots of big fish. But I promised him I wouldn't tell a soul but my old man, so... sorry guys:)


Very exciting though... Happy for him... His first time fishing in a year and a half since his baby was born...

Good times...

Cheers guys...