Striper Fishing With Texoma Fishing Guide James Allen Of Blue Water Striper Guide Services
Lake Texoma is home to some of the absolutely best striper fishing around and one of the best ways to fully experience all it has to offer is to go out with a Texoma Fishing Guide.
Now there are quite a few Texoma fishing guides to chose from and you want to make sure you make the best choice for your hard earned dollar when you decide to get into some Texoma striper.
We had a chance to chat with a guy that really knows his stuff. James Allen of Blue Water Striper Guide Service has been a Lake Texoma fishing guide for years and knows how to put his customers on some big stripers and other great fish for that matter.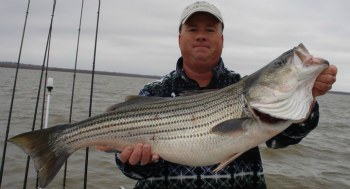 We have been following James on Facebook for some time now and there he provides all the proof you need with pictures of his outings. Not only that, he shares some really great information about the lake and how the current fishing is doing.
James talks striped bass techniques and best times.
James tells us what gear he uses to catch Texoma striper.
By the way James will do raffles for trips. Be sure to follow the Bluewater Striper Guide Service FB Page to find out more and make sure you click that like button while you're there.
Here is priceless knowledge from a top notch Texoma fishing guide.
How long have you been a Texoma fishing guide?
I grew up on Texoma and have fished it all my life. Growing up, it was more famous for it's Sand Bass (White Bass) population. Over the years, Stripers have edged them out as the dominant species. I've been fishing for Stripers for 10 years and full time guiding for about 7.
How did you get started as a Texoma fishing guide?
A co-worker started guiding years before me, so I knew the ins and outs and what was involved. It just seemed like the perfect job. I had always worked in retail and when something at work would make me mad, I would threaten to quit and become a fishing guide. One day my wife told me to if I thought I could make a living at it. So, I sold all my Large Mouth Bass equipment, both my Bass boats and bought a Striper boat. I built a website and said I was going to give it 6 months. I've never looked back.
What is the best part of being a Texoma fishing guide? The worst part?
The best part is being my own boss and having a hand in helping someone have their best fishing trip ever. The worst part, are the long hours. I get up at 2:a.m. to catch bait and usually don't get home until 5:30 p.m. Then there is still internet work to be done, fishing reports, answering emails. A typical work day is 16-17 hours and some months I work 30 days straight.
What is the largest Striper you have ever caught?
My personal best is 18.5 pounds, the biggest a customer has caught is 20.4 pounds. Caught by a 16yr old girl.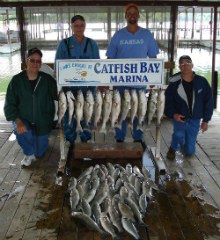 Have you always guided at Lake Texoma?
All I have ever been is a Texoma fishing guide. It is enough work, keeping track of their daily patterns here, much less trying to figure out other lakes also.
Besides the stripers, what makes Lake Texoma so great?
There are a number of species of fish that we get into while we are out Striper fishing. We catch catfish, Sand Bass, Crappie, Small Mouth Bass, Gar, Drum. The biggest Blue Catfish we've caught is 79 pounds. The lake record is 121 pounds. Texoma is a big lake with beautiful scenery and clean water. Lot's of room for many fishing boats to fish without being crowded.
From your Facebook post it looks like you're preference is bait over artificial lures. Has this always been the case? Do you find bait works better than lures?
Using live bait is way harder on me than using only lures but I prefer live bait for one reason....It catches more fish. Period. Lure fishing is fun and for experienced anglers there is nothing better than a large Striper inhaling a lure. That is really fun fishing but most of my clientele are not familiar with casting lures. Live bait fishing is easy and simple for the anglers. A 5 year old can catch as many fish as their experienced dad. With live bait, I can get a school of Stripers to come to the boat and start feeding. You can't do that with lures. Day in and day out, you just can't out fish live baits.
What bait works best for stripers?
On Texoma, Stripers only eat a bait fish called Shad. There are two types of shad in Texoma, Gizzard and Threadfin Shad. Stripers eat both. Stripers here do not eat other types of fish, they don't eat insects, crawfish, perch etc..... I clean 9.000 to 10,000 Stripers a year and except for the occasional lure, and maybe a baby Drum every now and then......Shad are the only other food I've seen in their stomachs.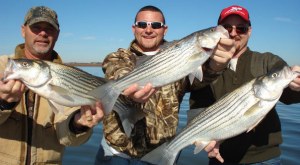 If you've ever used lures, what do you find works best?
When Stripers are schooling on top, any silver or white, flashy type of lure will work. They are going after movement more than anything else. When they are deep my number one lure of choice is a slab. A painted piece of flat lead with a treble hook on one end. I prefer white or chartreuse colored ones in the 2 oz. size. We drop these slabs down to the fish and then jig them up and down. Hang on.
What are the best times of the year to fish for Stripers?
It depends on what you are looking for. Summer time is best for top water action but smaller fish. Fall is great for better sized fish and numbers. Winter is best for big fish. Stripers spawn in late Feb. and thru March. That makes these months my slowest. Once spawn is over, they go on a feeding frenzy and that makes April and May my most popular months. Those months can book up solid a year in advance. I prefer late October into November fishing. Bait is easy to get, the temps are nice and the fish are fattening up for winter. Fish eat year round, I usually tell people come when the temps are what they like. It doesn't matter how well the fishing is, if you are too hot or too cold and uncomfortable, you are not going to enjoy your trip as much.
Is there any techniques or strategies you could share with our visitors for catching big stripers?
Time of year is the biggest factor for bigger fish. We catch big fish all year but 90% come from November thru Feb. Size of bait does not matter. I've caught most of my bigger fish on baits and lures in the 3 inch range.
In your opinion what is the most important factor when fishing for big striper?
I hate to admit it but catching bigger fish is mainly just, right place right time. I've caught them in 2ft of water and down 75ft hugging the bottom. They roam a lot and are just mixed in with the other sizes of fish in the area. Time of year is the best thing to look at to increase your chance of a bigger fish. Winter months.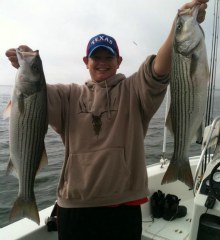 Is there any particular line of fishing rod and reels you are partial to?
All of my reels are bait caster Ambassadors. My rods are all 6.6 med. heavy but I don't care what brand.
Can you describe for our visitors what the ideal set up is in order to catch striped bass like the ones you catch shown on your website and Facebook Page?
I use Berkley Big Game line. I put 20lb on the spools and use a 15lb line on the leaders. I use a 2 oz. egg weight. I then add a #7 barrel swivel. I attach 2ft of 15 lb leader and then use a 2/0 Kahle hook. I tie all of my knots using an Improved Clinch Knot.
I'm sure you've cooked up a lot of striped bass. Do you have a favorite recipe or way of cooking that you could share with our readers?
There is not a wrong way to took them. Grilled, baked, broiled....those are all great but over the years, my family has decided their favorite way is deep fried, so that is the only way we eat them now. I don't add milk or egg or make a thick batter. I rinse them in fresh water, then dip them in a fine corn meal breading. Sometimes I add lemon pepper or salt and pepper. Deep fry them in 350 oil for about 5 minutes and they are done.
Check out some more striped bass recipes.
What is your most memorable fishing outing as a guide?
Anytime a big fish is caught. Most people go on and on when they catch a big fish. People seem to get more excited about a 50 pound catfish, than they do about big Stripers. Maybe I'm guiding for the wrong species.
You have a lot of great info and proof why people looking for a Texoma fishing guide should choose Blue Water Striper Guide Service on your site. Can you tell our visitors a little more about your guide service and just touch on some of the things that make your service different.
There are a lot of guides on this lake. Some are full time, most are not. Some guide on other lakes and do duck hunts etc...
I fish only on Texoma and only for Stripers. I am full time and this is my only job. I try to do around 220 trips a year. That keeps me on the lake enough to know the patterns of these fish and where they are at any given time. Lake Texoma is a big lake (89,000 acres) and Stripers here migrate, they are not at the same part of the lake in December that they are in July. I also do extra things that I know customers like that most guides do not do. I take the blood line out of the fish when I clean them, I try to catch and release so I can keep groups out longer and not come in as soon as limits are caught. I don't charge for lost rods and reels. I am current on all of my Coast Guard licenses and drug testing. (most guides are not) I am very family oriented and promise that groups will not be exposed to foul language or any other non family things. I am patient with kids and beginners and try and keep my methods of fishing very simple and effective for all types of fishermen.
People want to catch fish, that's the bottom line and I feel my set up is the best method on the lake to put lots of fish in the boat. Fishing is fun but catching is waaaaaay better.
I hope that I've covered some of the basics about Texoma and Striped Bass fishing here. I'm open to any questions anyone has about the lake, the fish or my guide service.
Thanks for your time.

You can contact James by clicking on his link below or visiting his FB page.
Don't forget to tell him thanks for sharing these great tips and techniques on BassFishingSource.com.

James Allen - Texoma Fishing Guide
Blue Water Striper Guide Service
Lake Texoma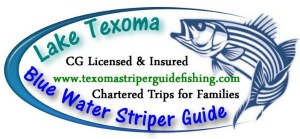 ---
Go back from James Allen - Texoma Fishing Guide to our striped bass section.
Visit our home page for more on all kinds of bass fishing.
Check out some of most popular tactics
---