Weather Factors That Can Affect Your Bass Fishing
How barometric pressure and associated fronts fit into the bass fishing equation

Do daily weather changes play a factor in catching fish? It's something I've always wondered. I mean we've all heard conflicting variations of advice. Go before a rain, no during the rain or was it 2 ½ days after more than 1 inch of rain but less than...well you know what I mean.

But I'm trying to find the facts about finding and catching more bass so I did some digging. As I looked more into how weather affects fishing, one of the top things I found were fronts which almost always leads to the subject of barometric pressure.

Using barometric pressure to catch more bass

What does this have to do with fishing? 

Wherever you look you will read that the fishing turns on right before a front moves in. The bite can get really hot and your chances of putting fish in the boat increases. Conversely, the bite tends to turn off once the front has moved on. So shifts in the barometric pressure can make a huge difference in the action you will see while you're fishing.

How do you know when the pressure changes?
Well you can use your phone to look up the barometric pressure. The Weatherbug app shows it on the details page. Or you can Google "current barometric pressure" and you should get some results for your area.
But the most accurate way is to have a barometer with you. You can get real time results and monitor changes on the fly.

I asked the question of the fishing fans on Twitter and got into a great conversation with Billy from @AMFisHca. He has no doubt that the bass start going in a feeding frenzy when pressure starts changing. For this reason he has a gauge on him at all times when fishing. Check out what he had to say.

I don't know about you but I'm convinced! 
The gauge that Billy mentions can be found at Bass Pro Shops. For less than $20 I can get a tool that may help me catch more bass? I'm in!
Do you monitor fronts closely and focus fishing time around them? Is there another weather factor you use as an indicator of a hot or cold bite from the bass?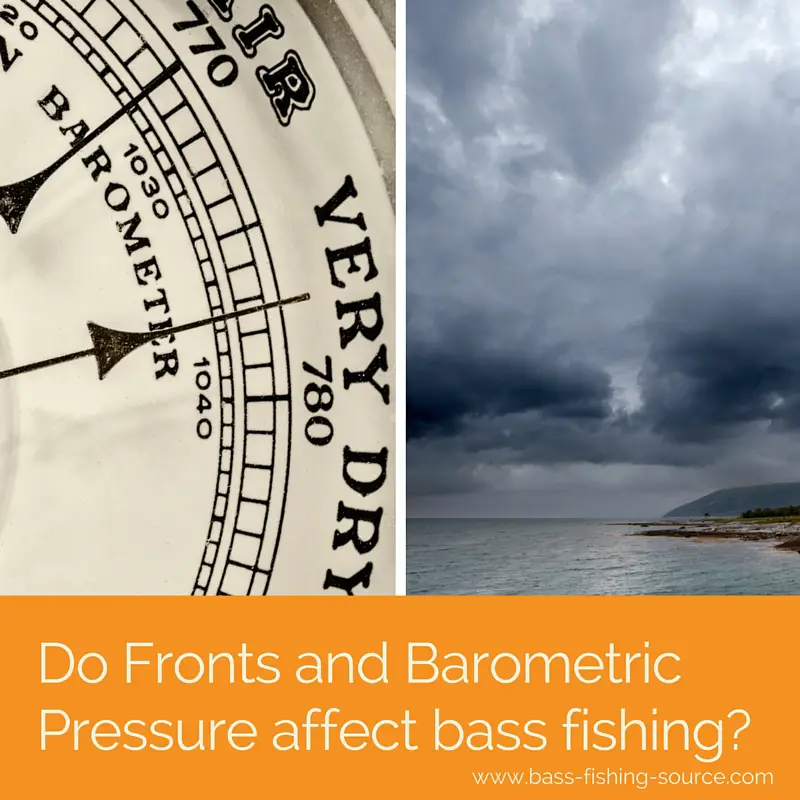 Learn more about Largemouth bass fishing.
Go to the bass fishing home page.