Delicious Striped Bass Recipes
So the fishing is only part of the fun. Having some good striped bass recipes on hand is a must if you plan on taking your catch home at the end of your fishing day and enjoy the fruits of your labor. Stripers offer some of the best eating around.
Whether you enjoy the traditional fish fry or throwing your catch on the grill. Here are some ways we cook ours up. Enjoy.
Breaded Striped Bass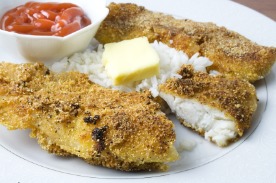 The most popular striped bass recipe is going to be your good ole, traditional fish fry. This usually involves filleting your striped bass then breading or dipping the fillets in batter and frying them in a pan or deep fryer. Peanut oil is the cooking oil of choice when frying fish.
Two of my favorite are the spicy version of Uncle Bucks Fish Batter, which you can get at Bass Pro Shops, and Zatarains Seasoned Fish-Fri with lemon. These are some excellent mixes and make for a great fish fry.
A note on filleting fish.

If you plan on filleting fish more than a couple of times you may want to invest in an electric fillet knife. You can get one for about $25 and believe me it is well worth it. For the longest time I used a manual knife, I guess I thought why spend over $20 when I can do it myself the old fashion way just fine. Well This thing has made life sooooo much easier.

Grilled Striped Bass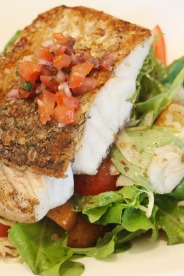 Another one of our favorite striped bass recipes is Grilled Striper. To do this we simply clean and scale the fish, leaving everything else in place. Some people prefer to take the head off which is just fine.
We then place it in foil, season with our favorite spices and then add some veggies like Tomatoes and onion. Close up the foil and place on a grill for a few minutes and you got a great meal to serve with some rice or with other favorite sides.
Here's video of the Grilled Striper from start to finish.
Want to know more about the Striped Bass and what it takes to catch these great fish? Go back to the Striped Bass page for more great info and to post your Striped Bass story.
Other interesting bass info:
Go from Striped Bass Recipes to the Bass-Fishing-Source home page. 
Want to share your favorite recipe for Striped bass?
How do you cook your catch? Striped bass or otherwise, if you got a killer recipe for frying, grilling, baking or even for some sides, you can share them here.
---